miércoles, 30 de noviembre de 2016









Ben &
Jerry's, Colgate, Dove, Pantene and KitKat are just some of the
thousands of popular brands that use palm oil. But where does that palm
oil come from?
Palm oil is a commodity in massive demand for its use
in a wide range of basic products from ice-cream and chocolate to
shampoo and toothpaste.


Most companies will tell you that the palm oil they use is
"sustainable" – meaning that it is environmentally friendly and the
workers are treated fairly.


But an Amnesty International investigation has revealed that some of the world's biggest companies
- including Colgate, Nestlé and Unilever - are contributing to child
labour and wretched conditions for other workers on palm oil
plantations.


Abuses are also taking place on plantations run by companies who are
certified as "sustainable", meaning even brands you buy marked as made
with "sustainable" or "certified palm oil" could be tainted by human
rights abuses.
martes, 29 de noviembre de 2016
In honor of today's International Day in Solidarity with the
Palestinian People, learn & share why this day is so important. This
history told by Abby Martin is one of the greatest injustices of the modern era.

The full episode of VICE on HBO's 'State of Surveillance' is available to stream for free on VICE News.

When
NSA whistleblower Edward Snowden leaked details of massive government
surveillance programs in 2013, he ignited a raging debate over digital
privacy and security. That debate came to a head this year, when Apple
refused an FBI court order to access the iPhone of alleged San
Bernardino Terrorist Syed Farook. Meanwhile, journalists and activists
are under increasing attack from foreign agents. To find out the
government's real capabilities, and whether any of us can truly protect
our sensitive information, VICE founder Shane Smith heads to Moscow to
meet the man who started the conversation, Edward Snowden.

VICE on HBO Season 1: http://bit.ly/1BAQdq5
VICE on HBO Season 2:http://bit.ly/1LBL8y6
VICE on HBO Season 3:http://bit.ly/1XaNpct

Check out VICE News' continuing coverage of Edward Snowden and the surveillance debate:

Snowden Claims 'Deceptive' NSA Still Has Proof He Tried to Raise Surveillance Concerns: http://bit.ly/25MqUfD

Exclusive: Snowden Tried to Tell NSA About Surveillance Concerns, Documents Reveal: http://bit.ly/1TVVkog

'We
were living in security and peace. These areas are being targeted, they
want to force us to leave. Every Syrian is being targeted,' one Syrian
religious leader told a delegation of Western journalists who visited
Aleppo this month.
War diary by Western journalist Eva Bartlett on the truth about #Aleppo.

Overlooking the terrorist-occupied Bustan al-Qasr district of eastern Aleppo. Nov. 4, 2016. (Photo: Eva Bartlett)
The Obama administration is opposing efforts to recount the presidential
election vote in the three key states of Wisconsin, Pennsylvania and
Michigan.

The NSA and GCHQ are virtually joined at the hip. GCHQ shares nearly all
the data it collects, and relies on US technology for its key
operations. "If there were a crisis in the relationship between the UK
and the US, what risks would our shared intelligence arrangements pose?"
We asked this question in our 2015 report about the Snowden leaks. We
might be about to find out the answer.











There was a minute's silence at Adelante, the yearly gathering of
Latin America activists in London on Saturday who had woken up to news
that Fidel Castro was no more.



And then another minute's silence at the end of the day, rich in
tributes to the towering figure of socialism and internationalism.



It was fitting. Just one minute would barely reflect the
revolutionary leader who rarely gave a speech lasting less than four
hours and ruled Cuba for five decades.



But the achievements that most people kept coming back to during the
day, were not leadership or longevity but two ordinary areas of everyday
life: health and education.



Under Castro's leadership, Cuba went from being a country of poor and
largely illiterate people, to one that puts most of the rest of the
Western world to shame with its impressive health and
education statistics.



As rich countries, such as the US and Britain, have fostered
growing inequality and are failing to meet the public health and
education needs of their populations, Cuba has for years provided high
quality free health care and education for all. The result: a literacy
rate higher than the US's and life expectancy that equals it.
Last week, a technology reporter for the Washington Post named
Craig Timberg ran an incredible story. It has no analog that I can
think of in modern times. Headlined "Russian propaganda effort helped
spread 'fake news' during election, experts say," the piece promotes
the work of a shadowy group that smears some 200 alternative news
outlets as either knowing or unwitting agents of a foreign power,
including popular sites like Truthdig and Naked Capitalism.



The thrust of Timberg's astonishingly lazy report is that a Russian
intelligence operation of some kind was behind the publication of a
"hurricane" of false news reports during the election season, in
particular stories harmful to Hillary Clinton. The piece referenced
those 200 websites as "routine peddlers of Russian propaganda."



The piece relied on what it claimed were "two teams of
independent researchers," but the citing of a report by the longtime
anticommunist Foreign Policy Research Institute was really window
dressing.



The meat of the story relied on a report by unnamed analysts from a single mysterious "organization" called PropOrNot –
we don't know if it's one person or, as it claims, over 30 – a "group"
that seems to have been in existence for just a few months.



It was PropOrNot's report that identified what it calls "the list"
of 200 offending sites. Outlets as diverse as AntiWar.com,
LewRockwell.com and the Ron Paul Institute were described as either
knowingly directed by Russian intelligence, or "useful idiots" who
unwittingly did the bidding of foreign masters.



Forget that the Post offered no information about the
"PropOrNot" group beyond that they were "a collection of researchers
with foreign policy, military and technology backgrounds."
The 'Washington Post' ran a piece last week headlined "Russian
propaganda effort helped spread 'fake news' during election, experts
say." (Photo: Joe Raedle/Getty)
'The following documentary examines the roll Christianity plays in
American right-wing politics and the radicalizing effect it has had.
Republicans often say that a handful of radicals represent the entire
Muslim community. Should Christians be held to the same standard?'

Two thousand veterans are planning to join the Standing Rock Indian Reservation protests against the Dakota Access Pipeline.



The day before the US Army Corps of Engineers plans to close camps in
North Dakota, as many as 2,000 military veterans are expected to stand
in solidarity with the Native Americans and the protesters who have
endured months of extreme weather, pepper spray, water cannons, as well
as alleged use of grenades by police. Protests were mostly peaceful
until they turned violent in late November.



The event, Veterans for Standing Rock, is calling for participants to
"assemble as a peaceful, unarmed militia" to stand against protesters
being assaulted and intimidated by law enforcement.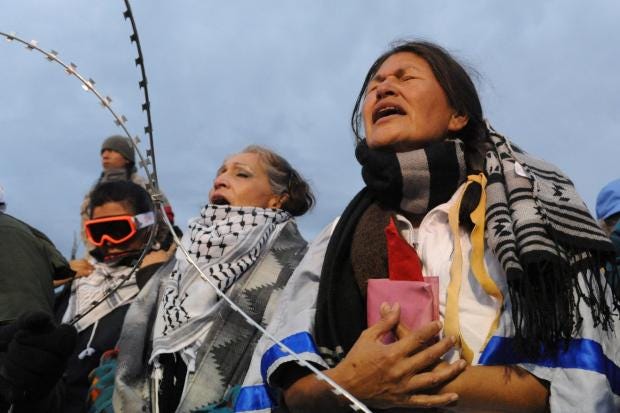 The event organisers have asked veterans to bring body armour and gas masks, but leave weapons at home
Reuters
Transparency in TiSA is asymmetrical in favoring large corporations that
are financially strong and well established, while ordinary citizens
lack opportunities and the access to actually make use of transparency.

As of November 28, 171,299 boat migrants had reached Italy's shores, the
Interior Ministry said, compared to the previous record of 170,100 for
all of 2014.
A boat overcrowded with migrants trying to reach Italy.
John Pilger's new film – The
Coming War on China – will be in UK cinemas from Monday 5 December 2016
and on ITV at 10.35pm on Tuesday 6 December in both the UK and Ireland.
The Australian cinema release will be in February 2017 and the film will
be broadcast on SBS shortly after.


Watch the trailer

View cinema screenings

Read latest reviews



"The aim of this film is to break a silence: the United States and China
may well be on the road to war, and nuclear war is no longer
unthinkable" – John Pilger


Read more from John Pilger about the film here


This new feature-length documentary by award-winning journalist and
filmmaker John Pilger is his 60th film for television. Coming straight
after the election of President Trump, the film is one of John Pilger's
most timely and urgent investigations and is both a warning and an
inspiring story of people's resistance.
[EN] 455 European and Canadian civil society groups call for rejection of #CETA
[FR] 455 organisations de la société civile en Europe et au Canada rejettent le #CETA

lunes, 28 de noviembre de 2016
Ordolibéral, François Fillon
? L'ordolibéralisme est une forme de néolibéralisme inventée outre-Rhin
il y a huit décennies, aujourd'hui incarnée par le ministre allemand
des finances Wolfgang Schäuble. C'est surtout « une référence ductile,
mais très légitime, car associée à l'idée de refondation — un peu comme
le gaullisme en France. »

« Quand la société dit non » (en souvenir du mouvement social de novembre - décembre 1995 en France, contre l'Europe libérale)
http://www.monde-diplomatique.fr/5169

By Colin Todhunter
– In her recent open letter to the United States Environmental
Protection Agency (EPA), campaigner Dr Rosemary Mason documents what
amounts to a cesspool of corruption surrounding sections of the
agrochemicals industry and the regulation of glyphosate (as found in
Monsanto's herbicide Roundup).


As with all her previous 'open
letters' to officials, Mason cites ample sources to support her
arguments and claims, not least those about the health- and
environment-damaging impacts of glyphosate, a highly financially lucrative product for Monsanto. Readers may access these sources by consulting her original 15-page letter to the EPA here: open-letter-to-us-enviro nmental-protection-agency- about-glyphosate-and-the- international-monsanto-tribuna l


Mason notes that CropLife America, the agribusiness lobby
association, put pressure on the EPA to exclude individuals who had in
the past expressed a negative opinion of glyphosate from sitting on the
Federal Insecticide, Fungicide and Rodenticide Act (FIFRA) Scientific
Advisory Panel (SAP). EPA immediately bowed to that request and delayed
the date of the SAP to find further figures approved by industry. She
documents in some detail how Croplife America pressured the FIFRA SAP to
rely on assessments of glyphosate tainted by conflicts of interest and
wanted to have excluded specific scientists from the International
Agency for Research on Cancer (IARC) (whose negative evaluation of
glyphosate had upset the industry) and the Consensus Statement on
Glyphosate written by 16 scientists.

"I provided examples based on our data on the financing of
different Islamic State (IS, formerly ISIS/ISIL) units by private
individuals. This money, as we have established, comes from 40 countries
and, there are some of the G20 members among them," Putin told reporters.


#Putin: #ISIS income comes from #oil trade. I showed my colleagues satellite images of endless truck columns. #G20 pic.twitter.com/Dh70rNHjiV



In addition to discussing the need to stop the flow of donor money to
ISIS, Putin also reiterated the need to stop the illegal oil trade by
ISIS.


"I've shown our colleagues photos taken from space and from
aircraft which clearly demonstrate the scale of the illegal trade in oil
and petroleum products," he said.


"The motorcade of refueling vehicles stretched for dozens of
kilometers, so that from a height of 4,000 to 5,000 meters they stretch
beyond the horizon," Putin said.

Antalya, Turkey – Russian President Vladimir
Putin has announced that he has shared intelligence with the other G20
member states, which reveals the 40 countries from which ISIS finances
the majority of their terrorist activities. The list reportedly included
a number of G20 countries.
SRIDHAR CHAKRAVARTHI RAMAN: Critics of demonetisation were shouted down
as unpatriotic with the passionate fervor of McCarthyism. Donning the
mantle of a messianic prophet PM Modi exhorted the poorest of the poor
to move towards a cashless society. Cutting beneath the masochistic
hysteria of pain and national sacrifice whipped up by the propaganda
machine of corporate media and the Modi government, one discerns
fundamental flaws in the argument that demonetization eradicates black
money and counterfeit currency. It is as absurd as arguing that to
prevent bank robberies one has to completely shut down the banks.

Leftwing academics, writers and journalists have written
tendentious articles where they manage to transform reactionary
political leaders into working class heroes and present their dreadful
policies as progressive advances.


Recently, leftist pundits throughout US and Latin America have
plagued the reading public with gross distortions of historical events
contributing, in their own way, to the demise of the left and the rise
of the right.

Exclusive: The "fake news" theme has captivated The Washington Post
and the mainstream U.S. media so much that it is stooping to
McCarthyistic smears against news outlets that don't toe the State Department's propaganda line, says Robert Parry.
Lawyer Roy Cohn (right) with Sen. Joseph McCarthy.
The West's "liberal democracies" are undergoing a shift toward
repression with new initiatives to spy on citizens and punish
whistleblowers who expose government abuses, observes ex-British
intelligence officer Annie Machon.

While CNN's article is still full of lies and omissions, I wonder if
they would have said anything at all if it weren't for the influence of
the alternative media to force their hand and set the agenda...

Recent publications have revealed that narcotics are as much a part of conflict as bullets.


Recent publications have revealed that narcotics are as much a part of conflict as bullets.


Chomsky calls Trump an "ignorant, thin-skinned megalomaniac".
(via UpFront)

If any year could be said to be the "year zero" of our modern era, 1979 is it.

In the Middle East, the Iranian revolution, the Saudi Islamic uprising
and the Egrypt-Israel Camp David accord led not only to the present
regional power dynamic but decisively changed the relationship between
oil, militant Islam and the world.
The uprising at Mecca
permanently shifted Saudi Arabia towards Wahhabism, leading to the
transnational spread of Islamic fundamentalism and the US-Saudi
destabilisation of Afghanistan.
Osama bin Laden would leave his native Saudi Arabia for Pakistan to support the Afghan Mujahideen.

The invasion of Afghanistan by the USSR would see Saudi Arabia and the
CIA push billions to Mujahideen fighters as part of Operation Cyclone,
fomenting the rise of al-Qaeda and the eventual collapse of the Soviet
Union.
The 1979 current of Islamification spread to Pakistan
where the US embassy was burned to the ground and Pakistan Prime
Minister Zulfikar Ali Bhutto was executed.
The Iranian hostage crisis would go on to fatally undermine Jimmy Carter's presidency and see the election of Ronald Reagan.
Saddam Hussein? Took power in 1979.

The rise of al-Qaeda eventually bore the September 11, 2001 attacks in
the United States, enabling the US invasion of Afghanistan and Iraq and
over a decade of war, leaving, at its end, the ideological, financial
and geographic basis for ISIS.