Hey,
you wanna know how the Trump family treats workers -- you don't have to
wait for Donald's (anti-)labor policies to play out on a domestic
level. Just check on the grim wage
conditions at a factory in Indonesia that makes product for Ivanka
Trump's clothing line, as reported in the Guardian. For the Trump
daughter who recently commented on her surprise at the "viciousness" of
politics in the media storm that is Washington, here's some viciousness
closer to home (and yet so much further away). Tom
"The reality of working in a factory making clothes for Ivanka Trump's
label has been laid bare, with employees speaking of being paid so
little they cannot live with their children, anti-union intimidation and
women being offered a bonus if they don't take time off while
menstruating.
"The Guardian has spoken to more than a dozen
workers at the fashion label's factory in Subang, Indonesia, where
employees describe being paid one of the lowest minimum wages in Asia
and there are claims of impossibly high production targets and
sporadically compensated overtime.
"The workers' complaints come
only a week after labour activists investigating possible abuses at a
Chinese factory that makes Ivanka Trump shoes disappeared into police
custody.
China won't release men investigating supplier producing Ivanka Trump items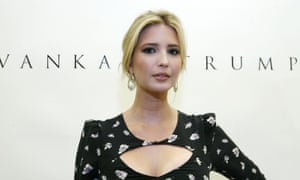 Workers at a factory that makes clothes for Ivanka Trump's fashion label say they get verbally abused
Photograph: John Lamparski/Getty Images