"The al-Jazeera network continues to stir violence around the Temple
Mount," Netanyahu wrote on his Facebook page in Hebrew. "I have spoken
several times to law-enforcement
authorities demanding the closure of al-Jazeera's offices in Jerusalem.
If this does not happen because of legal interpretation, I will work to
enact the required legislation to expel al-Jazeera from Israel," the
Israeli leader added.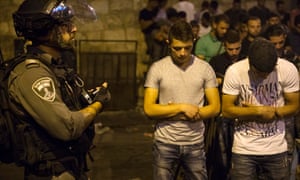 An Israeli border policeman holds a stun grenade in his hand while
Palestinian teenagers pray in the street near an entrance to the al Aqsa
mosque in Jerusalem.
Photograph: Peter Beaumont for the Guardian