Guardian headline:
"Met says Grenfell Tower council 'may have committed corporate manslaughter'"
The reality (buried deep in the story):
"Anyone found guilty is liable to a fine, not imprisonment. ...
"[The police letter] says the 2007 act does not give detectives the
power to arrest any individual from the organisations under suspicion.
...
"There [has] never been a successful prosecution for corporate manslaughter. ...
"Joe Delany, who lives in a block adjoining the tower and has worked
with the Grenfell Action Group, said: ' ... it's one thing to announce
this investigation is going on – which is totally different from a
prosecution being brought, which is completely different to a conviction
being achieved.'"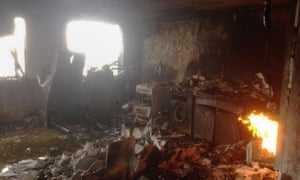 The interior of one of the flats in Grenfell Tower.
Photograph: Declan Wilkes/PA